7 Piece Cast Iron Casserole Cookware Set - Pink
Cast Iron cookware is back in the modern kitchen in a massive way. It does not only add a swarm of practical and health benefits to your cooking, but also brings a hearty dose of wholesome charm and style to your kitchen.
Cast Iron is known for its exceptional durability, its versatility for frying, cooking and baking, and its ability to absorb and hold heat much longer than other types of cookware – helping you cut down on electricity usage, and keep food warmer for longer.
Cast iron offers excellent non-stick cooking which just gets better over time, while ensuring healthy, chemical-free cooking that can also help boost the iron content of your food. You can be assured of the finest in cast iron cookware from our range of cast iron pots, featuring top quality multicoated porcelain enamelling, with individual hand finishing of each unique piece.
Invest in a healthier, tastier, more stylish cooking experience that you'll be relishing for decades to come.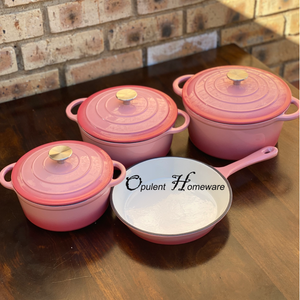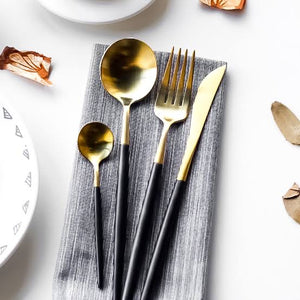 Dubai Black Cutlery Set
This range of cutlery is made from the highest quality of solid stainless steel and workmanship.
The cutlery is plated at high temperatures to ensure the colour lasts.
The Dubai design of cutlery is both modern and elegant. It is for the consumer looking for something different and unique.